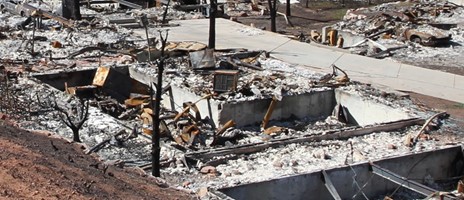 The December 30, 2021, Marshall Fire in Boulder County, Colorado, has reportedly destroyed about 990 homes.  Western Engineering and Research Corporation (WERC) engineers have evaluated numerous fire damaged structures over the past 25 years, relative to the extent of fire damage.  When a fire occurs in a home, and the fire department responds, the fire is commonly extinguished well before the entire home is consumed.  In these cases, WERC may be retained to evaluate the extent of damage to trusses, or to an isolated area of framing, and to provide recommendations for the extent of repair and/or replacement. 
When the fire is uncontrolled and burns the entire home, the concrete foundation system has been exposed to significant heat, and it is generally damaged.  This was demonstrated in the 2012 Waldo Canyon fire where the concrete foundation systems were not salvageable when the homes were entirely consumed by fire.  WERC expects the same concrete foundation damage for homes entirely burned in the Marshall Fire.
Sustained temperatures greater than 570 degrees Fahrenheit cause reduction in concrete strength and stiffness.  At high temperatures, concrete also suffers from internal micro-cracking and larger, observable, cracks.  Common indicators of concrete damage are yellow to pink color changes, concrete softness, and the concrete exhibits a dull thud sound when struck with a hammer or concrete test hammer.  The concrete walls may exhibit inward curvature related to the heat of the fire and resultant differential thermal expansion causing the inward bowing.
When a home is not entirely consumed by fire, as when extinguished by the fire department, even if the wood structure is largely destroyed, the concrete foundation may be essentially undamaged.  Test methods are available to survey the concrete in-place, and to sample and test the concrete to determine if it is salvageable.
Homes and businesses located very near the consumed structures may have experienced isolated damage to siding, windows, roofing and other elements related to the heat or windblown embers.  These structures can be evaluated individually to determine the extent of fire-related damage.