Western Engineering's professional staff is very familiar with building mechanical systems and ventilation problems that may occur and allow carbon monoxide to build up in a home or office building.  Carbon monoxide is the product of incomplete combustion, so it can originate from stoves, ovens, furnaces, water heaters, boilers and wood stoves commonly found indoors.  Mobile equipment such as automobiles, heavy equipment and propane or gas operated equipment typically generates the highest amount of carbon monoxide, and these are commonly isolated away from occupied spaces.  People can contribute to their own carbon monoxide exposure through smoking.  The main risks to carbon monoxide include (1) asphyxiation due to elevated concentrations replacing oxygen in the bloodstream, and (2) exacerbation of a heart condition such as an arrhythmia due to continual exposure to carbon monoxide.  The body becomes starved for oxygen, causing the heart to work harder to supply oxygen throughout the body.  If a person is breathing carbon monoxide for a long time, the accumulation of carbon monoxide replacing oxygen may overcome the body's elimination of carbon monoxide, causing a high level of carboxyhemoglobin.  This can cause dizziness and death.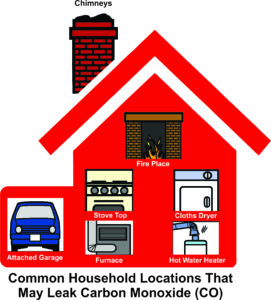 A Denver family won a weekend getaway, staying at a home near Aspen that had a malfunctioning boiler system.  Although the installation of the boiler was inspected, a defective condition allowed for accumulation of carbon monoxide in the home.  Although the defective condition was not discovered prior to the unfortunate incident, the boiler installation was not compliant with the building code.  Four members of the family died due to carbon monoxide exposure during the night.
In another case, renovations in a recreation center involving removal of floor tile by machines caused a buildup of carbon monoxide causing employees to be taken to "Emergency" for evaluation.  It turns out the Facilities Supervisor did not tell the contractors he was shutting down the ventilation system to ensure a more uniform application of polyurethane coating of the gymnasium floor.  Hence, the ventilation system did not exhaust the toxic gases as thought.
Carbon monoxide is colorless, odorless and non-irritating thus one can be exposed for a long time without noticing the effects.  Hence, it is important to install carbon monoxide detectors in a home or any place where people may sleep such as Fire Houses and hotels.  Colorado passed a law requiring carbon monoxide detectors in such places following the deaths discussed above.
https://www.colorado.gov/pacific/sites/default/files/HHW_CSA_FAQ-Carbon-Monoxide-Alarm%20Law-Colorado-House-Bill-1091.pdf
These are the means to prevent build up of carbon monoxide gas in your home, vehicle, or workplace. 
Properly design, install and maintain gas powered appliances and do not store items around these devices.
Vent combustion products directly outdoors.
If stranded in a snowstorm, clear the tailpipe regularly to effectively exhaust and not entrain carbon monoxide.
Install carbon monoxide detectors. Many smoke detectors are integrated with carbon monoxide detectors as well.
Utilize exhaust systems such as stove hoods while cooking when steam or visible smoke is being emitted.
Ensure that adequate makeup air is provided for furnaces, boilers, wood fireplaces.
Do not obstruct return air vents for gas furnaces.
Do not use gas-powered equipment including generators or heaters indoors.
Perform ice maintenance with motorized equipment such as a Zamboni when there is low occupancy within the skating facility.